Here you'll find answers to all of your questions about the app:
How do I go "online"?

How do I set my modalities?

What do I do after accepting a job?

How do I "complete" a job?

What if the client wants to extend?

How can I block clients that they don't want to receive booking requests from?

And so much more….
---
DOWNLOADING THE APP
The Blys Therapist App can be downloaded from these links below.
---
SIGNING UP / LOGGING IN
If you've already been approved as a Blys therapist, you can simply log in to the Blys Therapist app.
If you're having issues logging in to the Blys Therapist app, simply 'Reset Password' in the app
If you're having issues with your email, simply 'Sign up' from scratch in the app and we'll set you up
Our Operations team is on-call to help you onboard the Blys therapist app.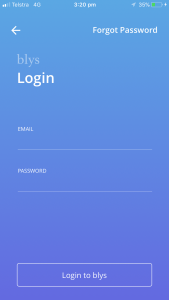 Otherwise, if you're not a Blys therapist yet, you can sign up in the app by filling out the sign up form, and someone from our team will get in touch with you to follow up on your account.

When you log in, make sure you tap 'Allow' to give the app the permissions it needs to be able to send you booking requests:
Make sure you select "Always Allow" for your app to know your location accurately:
---
GOING ONLINE
You need to be ONLINE in your app to be able to receive & accept booking requests.
Blys has bookings all throughout the week – so whenever you're ready and available to accept booking requests, open the app, go to your Account section, and tap to go Online.
We strongly recommend that you always stay Online (even if you're not available today), so that you'll get notified about jobs that are booked in advance.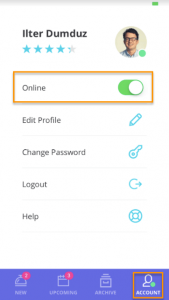 ---
SETTING YOUR MODALITIES
Set the modalities you're qualified / trained for in your app, so you receive relevant and personalised job alerts.
---
ACCEPTING BOOKING REQUESTS
Once online, you'll automatically begin to receive booking requests in your area via the Blys therapist app.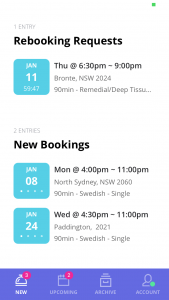 Simply go into your app to check out the job details, and tap 'Accept' if the job fits into your schedule.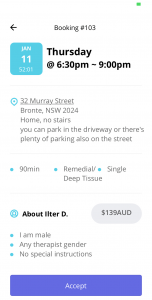 Once you tap 'Accept', the app will prompt you to confirm your time of arrival – which will be automatically sent to the client via our platform.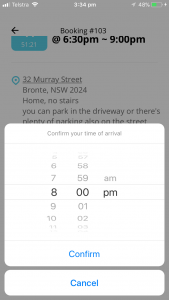 Your arrival time can be anytime between the earliest & the latest start time as indicated by the client. (e.g. – Wednesday, July 27 @ 1:00pm – 4:00pm)
All your confirmed bookings will be listed in the 'UPCOMING' section of your app.
---
NAVIGATION
You can use the address link provided in the Blys Therapist app to find out about the distance to the booking, the estimated driving time and the directions.
You can also find the location notes – such as location type and parking instructions – just below the address link.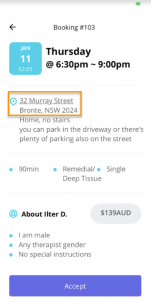 Once you're ready to head to your appointment, simply tap the 'On My Way' button in your app which will notify the client that you're on your way.
Please remember to arrive 10-15min before the booking start time to give yourself ample time to set up.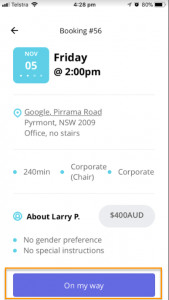 ---
CONTACTING THE CLIENT
If you require clarification on client's address or parking/door number, or if you're running a few minutes late to your appointment, you can contact the client directly from your app by tapping the Contact Client button.

We strive to offer Blys users a seamless and streamlined experience, so please minimise the back-and-forth with the client as much as possible.
---
COMPLETING THE JOB
As a last step, jump back into your app as soon as you finish, and tap 'Complete' to finalise the booking. Note that tapping the 'Complete' button also processes your payment, so to avoid delays in payments, make sure you tap 'Complete' immediately after your appointment.

---
EXTENDING THE SESSION
It's a common occurrence for Blys customers to ask our therapists to extend their session duration. (we can't blame them, they're getting the best massage they've ever had!)
The Blys Therapist app also allows you to extend the session.
Simply tap the 'Extend' button before you complete the job, and select the amount that was added to the session and confirm. This will automatically update the booking details and add the extra charge to the client's card and to your account.

---
REBOOKING REQUESTS
When a client rebooks you, you'll immediately see those rebooking requests at the top of new job offers.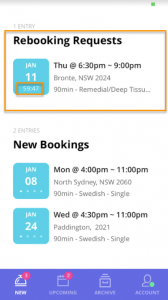 Rebooking requests are exclusively available for you for a limited time. If you're not available and accept the offer within the given time, the app will automatically open the job to nearby therapists to see if we can still accomodate the client's request.
To recap; Blys clients can easily rebook the same therapist from our app or website, by selecting the Rebook option when booking. In case you need to explain to the client how to rebook you, see this blog post about How To Rebook Your Favourite Therapist for details.
Additionally, being rebooked is an acknowledgement of the level of service you've provided – so, thank you for being awesome! 
---
JOB HISTORY & EARNINGS
You can see all your past jobs and your weekly earnings in the 'Earnings' section of your app.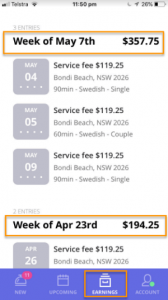 The jobs on this page are ranked from the most recent to the oldest. 
---
RATINGS & REVIEWS
To maintain the HIGHEST level of service quality, Blys collects feedback from clients for the service they received (a rating from 1 to 5).
You can find your rating in the Account section of your app, calculated based on the average of last 10 ratings you received.
We will soon be including the client reviews in the Blys Therapist app (it's rating only at this stage), and will also add the functionality to allow therapist to rate clients (it's a two way street at the end)
---
UPDATING YOUR DETAILS
You can update your personal details (such as your password, contact details, qualifications) from the Blys Therapist app from the Account section.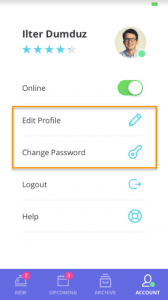 If you need to update other details such as your bank account or ABN, you can do that from our website. Simply head to www.getblys.com.au and log in with the same credentials (email & password) that you use for your Blys therapist app. You'll then be able to view & update all your details from the "Account" section located at the top right hand corner.
---
RATE AND REVIEW CLIENTS
Therapists can rate & review clients. Here's how it works:
Go to "Earnings", then select a past job and then tap "Rate Client"

if/when the therapist rates the client, change the CTA to "Modify Rating" - so that the therapist can modify her rating should they choose to change it.

Show therapist's rating and review in the client details section in the booking item page

"Your review"

"Your rating" (don't show the client's avg rating to the therapists, only show the therapist's own rating for that client.)

Show therapist's review in NAP;

in the 'Booking Log"

under "Reviews" of client profile;

Split this section into 2 with 1 tab for "Given", another tab for "Received"
---
BLOCKING INDIVIDUAL CLIENTS
Therapists can now "Block" individual clients in the therapist app
Therapists can now block clients that they don't want to receive booking requests from - for whatever reason.
This is how it works:
Go to "Earnings"

Tap on a past / complete job

remove exact address & location notes - only show suburb and state information

remove client special instructions

Tap on "Block Client" button

When selected, give the therapist the option (text field) to provide the reason for blocking.

After the reason is provided & the therapist confirmed the blocking,

show an in-app alert which says "Your note has been sent to our team. You won't receive requests from this client anymore."

send the ops team an email alert, including booking & therapist details and the reason for blocking

and a small note somewhere in the job page to say "Client Blocked"

the same button should become "Unblock Client", which should reverse the action

don't notify the therapist about jobs from that client anymore (exclude therapist from "notified list" as well as "text blasts")
---
CONTACTING BLYS
If you have any questions about your booking or your app, or simply need some help, our team is only a few taps away.
You can call, text or email us directly from your app any day, any time. We're here to help